Second-Generation Toyota Mirai Concept Shows Off Incredible Style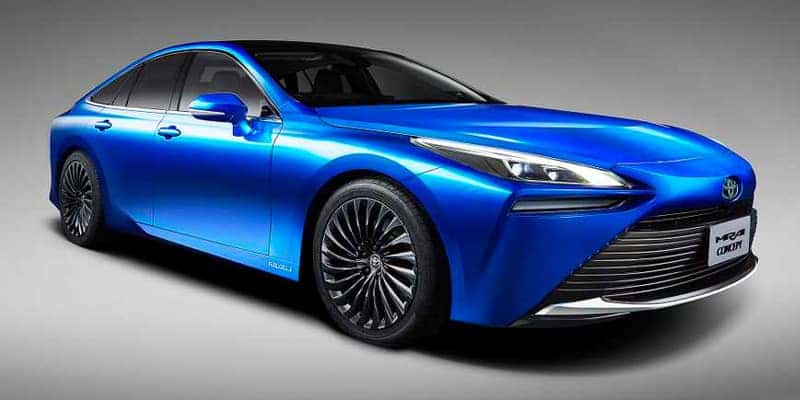 There is no denying the first-generation Toyota Mirai was a gamechanger with its hydrogen fuel cell powertrain that delivered hundreds of miles of emissions-free driving and a refueling process similar to a traditional gasoline vehicle. But its style was a little much for some buyers, and Toyota plans to rectify this with the second-generation Mirai. We just got our first glimpse at the concept for the 2021 Mirai sedan, and it is nothing short of incredible.
The 2021 Mirai Concept starts with a rear-wheel-drive platform in place of the old front-driven platform, which gives the design team a lot more freedom to work their magic. And work their magic they did with a long hood and striking coupe-like design that immediately grabs the eyeballs. While the design is a huge departure from the shocking current-generation model with its slick front end and smooth rear with wide taillights, this look still stands out on a crowded city street. Adding to this striking body is a set of 20-inch wheels
Inside, the Mirai Concept takes on a  more luxurious look with an 8-inch digital gauge cluster and a 12.3-inch high-resolution touchscreen. On the tech side, the Mirai Concept boasts navigation and a 14-speaker JBL audio system.
The look of the Mirai's interior is all-new too with restyled seats, a large center console with a leather-wrapped lid, and tons of horizontal lines on the dashboard. Particularly interesting is the surround that heads up the left side of the center stack and takes a hard right to shoot across the passenger's side. The interior also gains one extra seat in the rear, bringing its total seating capacity to five people.
There are no details of what is going on under the hood of the next-generation Mirai, but Toyota did say it will increase the hydrogen capacity, which Toyota expects to add 30% to its range relative to the current-generation model. This additional range would put the new-generation model at 406 miles. We also know the new-generation Mirai will switch to a rear-wheel-drive platform, ditching its current front-driven setup.
The second-generation Mirai will hit the Garber Fox Lake Toyota showroom serving the Waukegan, McHenry, Crystal Lake, and surrounding areas in 2020. How much, if any, of the concept that makes it to this second-generation Mirai remains top be seen. Check back often for updates.
Join the Conversation
Comments
comments