Toyota RAV4 Primed to Get a Plug in 2021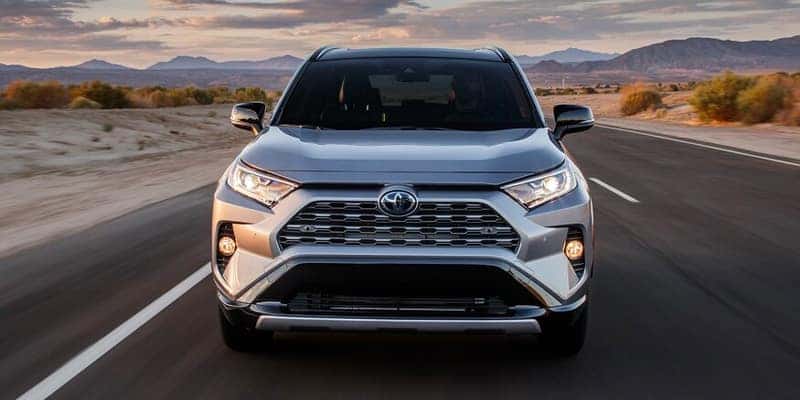 Since debuting in 2016, the Toyota RAV4 Hybrid has been a smashing success. With so many buyers lined up to get their hands on a thrifty people and cargo hauler, why not add a plug and maximize the demand for this green vehicle? In 2021, Toyota will scratch this itch with the all-new RAV4 Plug-In Hybrid.
The details are still scant on the 2021 Toyota RAV4 Plug-In Hybrid, but the automaker revealed a juicy hint as to what we can expect by calling it the "most powerful RAV4 yet." One can take that statement several ways. Let's look into each possibility.
The first possibility is Toyota means the 2021 RAV4 Plug-In Hybrid will be the most powerful current-generation model. If this is the case, then we know it'll have at least 220 horsepower, which is 1 horsepower more than the 2019 RAV4 Hybrid.
If Toyota implies it will be the most powerful RAV4 ever, then this is a whole new ballgame. In the mid-2000s, the RAV4 had an optional 269-horsepower 3.5-liter V-6 that made it quite the sleeper with a roughly six-second 0-to-60 sprint. If this is the case, the RAV4 plug-in hybrid will produce at least 270 horses, making it a potential straight-line beast considering the instant torque available from the electric motor.
Toyota also announced a new color option that'll be a part of the 2021 RAV4 Plug-In Hybrid lineup: Supersonic Red.
Can't wait to hear more about the 2021 Toyota RAV4 Plug-In Hybrid? The automaker will debut it on Nov. 20, 2019 at the Los Angeles Auto Show. If you can't make it to the auto show, you can also live stream the reveal to get all the info or just stop by our blog to get the scoop shortly after its unveiling.
Need a crossover today and can't wait for the 2021 RAV4 Plug-In Hybrid to debut? Check out our online inventory and choose a few 2019 RAV4 or RAV4 Hybrid models that suit your needs and schedule a future test drive. You can also stop by the Garber Fox Lake Toyota showroom serving Waukegan, McHenry, Crystal Lake, and the surrounding areas for a test drive today.
Join the Conversation
Comments
comments