How to Change a Flat Tire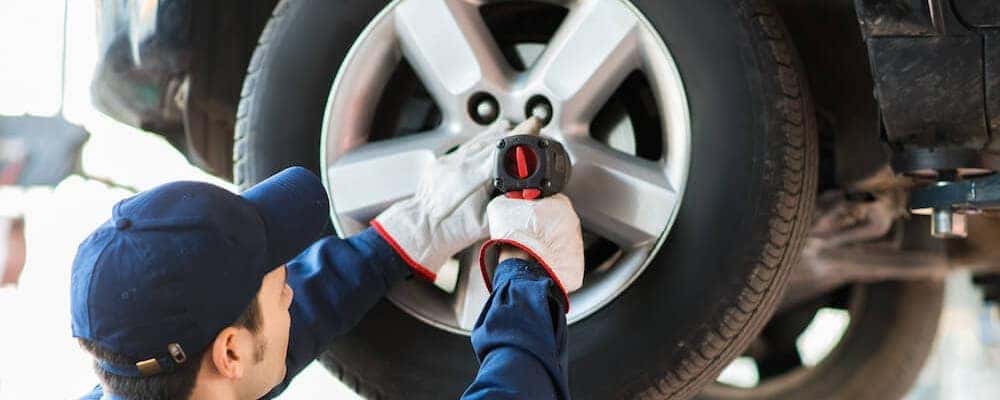 Knowing how to change a flat tire is an important skill that all drivers from Libertyville and beyond should know. Before you get started, make sure you have the following supplies:
Lug Wrench
Jack
Inflated Spare Tire
2″x6″ Piece of Wood
Car Owner's Manual
Wheel Wedges
Schedule Service Service Center
How to Change a Tire
When you realize that your tire is flat, slowly pull over onto a flat, level surface. Make sure not to stop on a blind corner, as that can be unsafe. Then take these steps to change a flat tire:
Activate your hazard lights so other drivers can see you.
Pull your parking brake lever even if you're on even ground.
Put the wheel wedges under the wheels opposite of the tire you're changing. For example, if you're changing a front tire, you'll want to put the wedges behind the rear tires.
Position the jack under the car's frame. Check your owner's manual for specific instructions.
Place the wood piece between the jack and the frame. Begin jacking up the car.
Use the lug wrench to loosen the lug nuts, then take them off by hand.
Take off the flat tire by pulling it toward you. Lay it flat on the ground.
Put the spare tire on and tighten the lug nuts by hand.
Lower the jack. Once the car is slightly lower, use the lug wrench to finish tightening the nuts.
Finish lowering the car until it's firmly on the ground.
Double check the spare to make sure it's the right pressure.
Head to a service center like the one at Garber Fox Lake Toyota for a new tire. Most spare tires shouldn't be driven for more than 70 miles before being replaced. Even if you have a full-size spare, it's a good idea to visit us near Lake Geneva, WI to make sure the tire fits your vehicle.
Contact Garber Fox Lake Toyota for More Info
Check in with us if you have any questions. Our knowledgable service staff is happy to help.We're located just a short drive from Waukegan, so stop by today.
Our sales, service, and parts departments are still OPEN and our staff is eager to lend you a hand. We want to ensure you have a reliable vehicle to get you to the grocery store, pharmacy, or doctor's office safely. We are closely following all CDC recommendations to ensure the safety of our employees, customers,…

Since its soft announcement months ago, we've all waited patiently for the official debut of the plug-in hybrid Toyota RAV4. Today, we finally get all the details, including its surprisingly powerful powertrain and its familiar Prime name borrowed from the Prius lineup. The 2021 Toyota RAV4 Prime was touted as the most powerful RAV4, but…

The Land Cruiser has been a staple in Toyota's lineup since 1958, but it has morphed from a utilitarian off-road rig to an off-roader with some class. Today, the Land Cruiser is still the same off-road machine it was all those years ago, but it also has loads of luxury to go with it. This…
Join the Conversation
Comments
comments