The Basics of App Suite Connect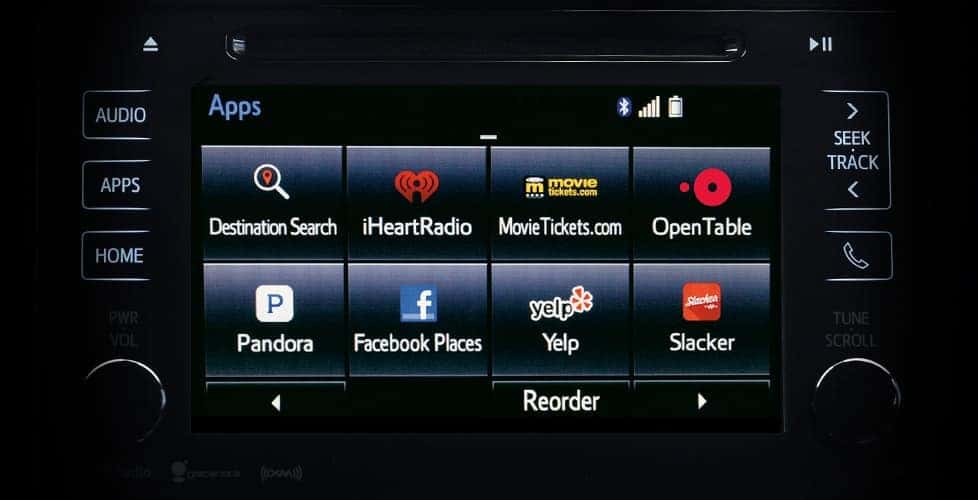 Staying connected behind the wheel is becoming increasingly important for many drivers and Toyota's Entune App Suite Connect allows you to do just that. Just how does this intuitive system work? Watch the video below!
"This video will go over the App Suite Connect feature found in Toyota's new Entune 3.0 multimedia systems. Having a great selection of applications is a key ingredient in the Enture formula, and with Entune 3.0, this gets better than ever.
Now called Entune 3.0 App Suite Connect, this system enables head unit integration with various applications through a connected mobile device and is now integrated into all three head units: Entune 3.0 Audio, Entune 3.0 Audio Plus, and Entune 3.0 Premium Audio.
Additionally, you no longer need to register a unique Enture account before getting started, although you will still need to install the Entune 3.0 App Suite Connect and Scout GPS Link mobile apps, which can both be found on the App Store on iOS devices and the Google Play store for Android devices.
Once the device is paired to the vehicle over Bluetooth, you're ready to begin taking advantage of some great Entune 3.0 App Suite Connect features. Enture 3.0 App Suite Connect can be accessed either through the APPS button on the head unit faceplate of the APPS icon in the Entune 3.0 touchscreen home menu. In here, you can see all the apps you currently have available as well as an APP CATALOG button, which opens a menu where you can add, rearrange, and even hide apps as needed. You can undo any of these changes by selecting RESET, also within the APP CATALOG menu.
Rearranging can also be done through the connect Entune App Suite mobile app. Additionally, within Entune 3.0, all these apps now share the same clean and modern design language as well as the same intuitive user interface. That means that if you know your way around one app, you know your way around them all.
Let's go over some of the apps in detail. First, you have the music-streaming apps you already know and love: Pandora, iHeartRadio, and Slacker. These all deliver a near endless assortment of high-quality, personalized music options. Just bear in mind that many third-party services have their own account systems, and you'll still need to sign in to your account for that particular app. Your Entune login credentials won't work.
Now, new in Entune 3.0 App Suite Connect, is NPR One, an audio streaming service offering 24-hour access to public radio news stories and podcasts. Next, we have Yelp, which provides details and reviews of local businesses like restaurants and retail stores. Entune 3.0 App Suite Connect has a fuel app that locates nearby gas stations and even provides up-to-date fuel pricing.
The traffic and weather apps also provide current localized information, and in Entune 3.0 Premium Audio units, receive data from HD Radio with Weather and Traffic.
Need to check the score of that game going on or see how your stock prices are doing today? Well, Entune 3.0 App Suite Connect has you covered for those as well thanks to the sports and stocks apps.
On Entune 3.0 Audio and Audio Plus head units, the Scout GPS Link with MapStream and TurnStream is available, which provides full navigation functionality including turn-by-turn directions when paired over Bluetooth and full moving maps when connected via USB and Bluetooth.
Now, within the setup menu, scroll down to the Entune App Suite tab. In here, there are a few options you can customize. First is data usage message, which allows you to specify the frequency of the cellular data warning message, Auto Detect iPhone App, which automatically launches the Entune App Suite mobile app on your iPhone upon connecting to the vehicle, and Connect USB in enhanced mode, which enables additional features in select apps when the devices is connected via USB rather than Bluetooth.
Finally, you can also access the App Catalog menu from this screen. And that's it! That's the scoop on Entune 3.0 App Suite Connect."
Experience Entune in Person
Interested in seeing at that Entune App Suite Connect has to offer. Experience it in person on a test drive at Garber Fox Lake Toyota. We would be glad to show you this incredible technology.
Join the Conversation
Comments
comments